Discover more from He Read She Read
Recommendations from the couple that reads together
Setting the reading mood
(you just need snacks, violin music, and a new book)
Hey friends,
Curtis received his care package last week. It was full of snacks from Trader Joe's and two books for him to enjoy: A Deeper Darkness by J.T. Ellison and The City We Became by N.K. Jemisin (our next buddy read). There's nothing like a couple of new books and some reading snacks to inspire you to get back into books! We'll update you on our current reading goals in next week's episode. In the meantime, here are some reading tips, book reviews, and favorite things…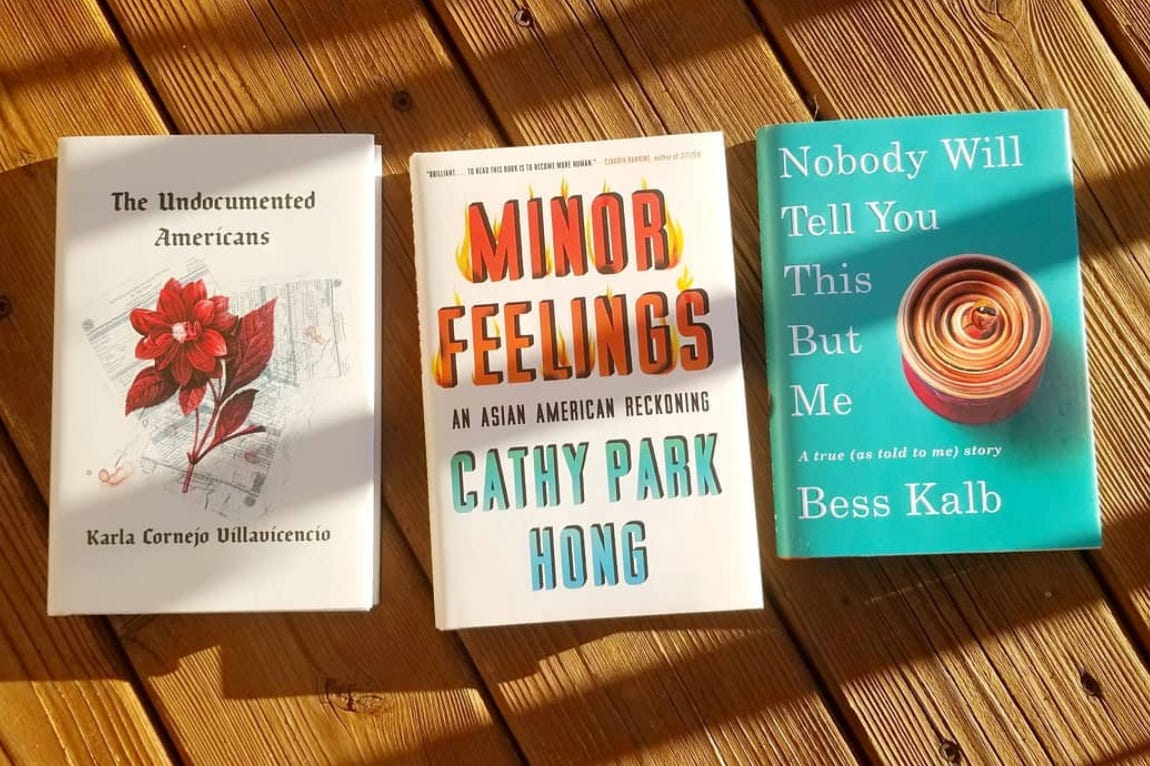 Some of these links are Bookshop affiliate links. We earn a small commission when you make a purchase using these links (plus, you support independent bookstores).
Books
Chelsey: 
Clap When You Land by Elizabeth Acevedo: I read this novel-in-verse earlier this summer, but I had to highlight it here. Acevedo is one of my favorite authors, definitely my favorite poet. I've listened to all of her books on audio, which she narrates. They're some of my favorite YA books of the last several years. Clap When You Land is about grief, sisterhood, and coming-of-age. I loved it.
Curtis: 
The Institute by Stephen King: One of my recent reading goals was to read a fiction book to break things up a bit with my heavy nonfiction reading. I can always count on King for an absorbing suspense story. This one involves kids with special talents, creepy adults with sinister motives, and an impossible escape plan, with King's classic themes around good vs. evil.
TV/Movies
Chelsey: Love on the Spectrum (Netflix)
Curtis: Homeland S7
Podcasts/Music
Chelsey: Nice White Parents (NYT + Serial)
Curtis: Literally! With Rob Lowe
Reading Tips
Chelsey: I've been using the Forest App to stay off of my phone and time myself for intentional, focused reading.
Curtis: Chelsey teased me a little bit for this, but I listen to classical music when reading. It helps me get in the zone.
Links
Audiobooks narrated by the original Hamilton cast
HBO is turning Between the World and Me into a TV special
Coming up
Next week, we're sharing some of our favorite memoirs, plus which memoirs are on our TBR lists. Our buddy read for July/August is The City We Became by N.K. Jemisin. If you'd like to get in touch with us, feel free to reach out via Instagram or email us at hereadshereadpodcast@gmail.com.
Happy reading, and have a great week!
C&C